The passengers included 10 foreigners, according to the state-run Nepal Television.
The cause of the crash was not clear Monday, which was declared a national day of mourning.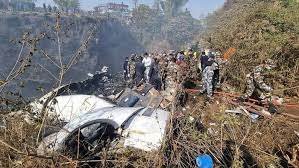 A Nepalese passenger plane with 72 people, including 10 foreigners, on board, crashed on Sunday while landing at the Pokhara airport and eight bodies have been recovered, according to media reports.
According to CAAN
According to the Civil Aviation Authority of Nepal (CAAN), Yeti Airlines' 9N-ANC ATR-72 aircraft took off from Kathmandu's Tribhuvan International Airport at 10:33 am.
Pokhara is a major tourist destination in the Himalayan nation.
While landing at the Pokhara airport, the aircraft crashed on the bank of the Seti River between the old airport and the new airport. There were a total of 68 passengers and four crew members, Republica newspaper reported.
Eight dead bodies have been found at the accident site, My Republica newspaper reported.
Plane crashed into the Seti river gorge
According to Tek Bahadur KC, Chief District Officer of the Kaski district, the plane crashed into the Seti river gorge. Rescue operations are currently being conducted, he was quoted as saying by The Himalayan Times newspaper.
Images and videos posted on social media platforms showed plumes of smoke billowing from the crash site.
"Three bodies are now left inside the deep gorge," K.C. said. "It's very difficult to go inside the gorge, which is 300 meters deep and very narrow."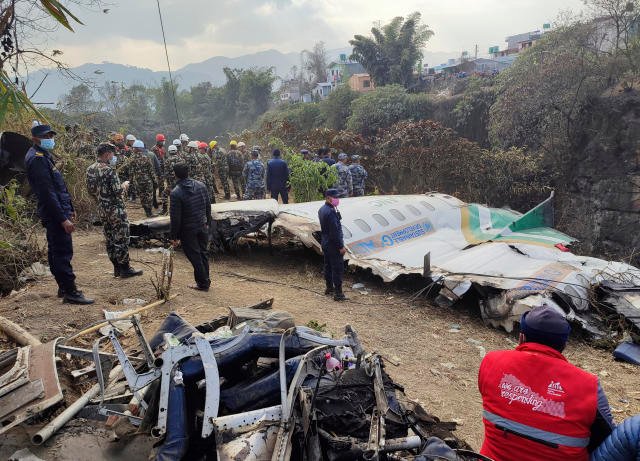 Prem Nath Thakur Speaks about the black boxes
Prem Nath Thakur, the spokesperson for Kathmandu's Tribhuvan International Airport and a member of
the rescue coordination committee, said authorities had recovered both black boxes, the cockpit voice
recorder, and the flight data recorder, from the crash site.
They will be handed over to the investigation committee members, who reached the crash site on Monday, Thakur said.
The flight departed from the capital, Kathmandu, around 10:30 a.m. local time Sunday bound for Pokhara, a city about 125 miles west of Kathmandu that is popular with tourists.
The flight was expected to be about 25 minutes, and authorities were alerted of the crash at about 11 a.m., Assistant Sub Inspector Rudra Thapa of the Pokhara police said Sunday.
Details of the accident are yet to come.