The Bharat Jodo Yatra is an initiative to protest the government's disregard for the needs of the populace.
A padyatra from Kanyakumari to Kashmir to unite our nation against hatred and division, highest ever unemployment and record price rise.
The Bharat Jodo Yatra was launched by Congress on September 6th, 2022, at 5 PM from Kanyakumari,
although the march, or pad yatra, was started on September 7th.
With an eye on the 2024 General Elections, Rahul Gandhi formally inaugurates the first-ever national-level foot march.
Bharat Jodo Yatra's 3,500 km length will be traversed in just under 150 days.
Rahul Gandhi, the leader of the Congress, began the day of the Bharat Jodo Yatra by paying a visit to the Tamil Nadu monument for his late father Rajiv Gandhi, who was assassinated there.
The BharatJodoYatra Route Map – From Kanyakumari to Kashmir, Bharat Jodo Yatra will cover 3570 kms across 12 States.
The Yatra which started from Kanyakumari in Tamil Nadu on September 7 has covered nine states so far
and is scheduled to culminate in Jammu and Kashmir by the end of January.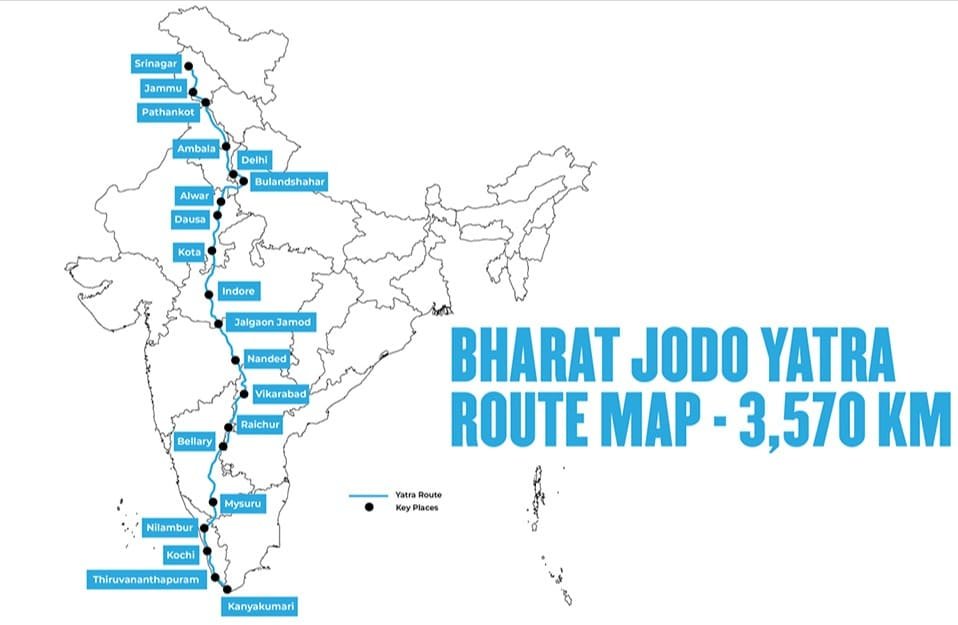 RoadMap of the padyatra
The Bharat Jodo Yatra was begun at Tamil Nadu's Kanyakumari.
The approximate 150-day march from the southern area of India will pass through 12 states in total,
with Jammu and Kashmir serving as the last state/ Union Territory.
The march will go almost 3,500 kilometers.
On September 7th, Rahul Gandhi officially launches the yatra in the presence of MK Stalin of Tamil Nadu, Ashok Gehlot of Rajasthan, and Bhupesh Baghel of Chhattisgarh.
Rahul Gandhi gets a Khadi national flag from Tamil Nadu Chief Minister and DMK leader MK Stalin.
The "Bharat Yatris" include the head of the Congress media department Pawan Khera, the former president of the Jawaharlal Nehru University Students' Union (JNUSU)
Kanhaiya Kumar, the son of the former chief minister of Kerala, Oommen Chandy, and Vijay Inder Singla, among others.
Political parties, social activists, academics, authors, artists, and other famous figures from all throughout India will take part of this Yatra.