NASA's retired Compton mission were able to discover the existence of a superheavy neutron star that existed briefly before collapsing into a black hole studied by Astronomers.
According to NASA, this short-lived but massive object probably formed from the collision of two neutron stars. In an in-depth examination of the powerful cosmic explosions known as "gamma-ray bursts" or GRBs, astronomers found light patterns that indicated the momentary existence of a superheavy neutron star right before its collapse into a black hole.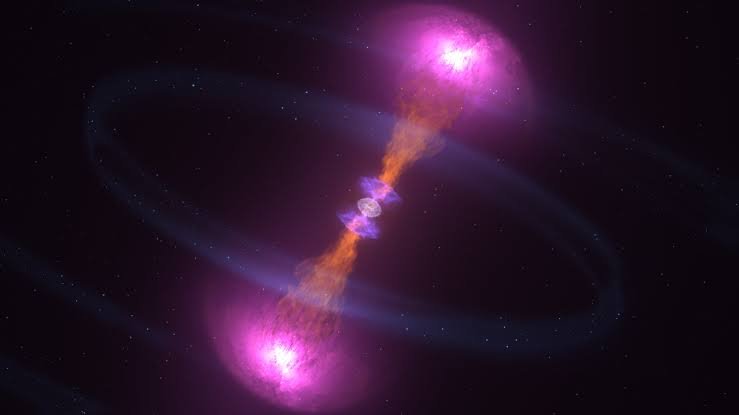 Neutron stars are formed when stars, usually the size of the Sun, run out of fuel and collapse. They are quite massive, however, their extreme density means that they typically pack a mass more than that of the Sun in a sphere that is about the size of a city. But, neutron stars above a certain mass collapse into black holes. The gamma-ray patterns that gave away the brief existence of the superheavy neutron star were found in the archival data from NASA's Compton Gamma Ray Observatory, which was retired and destroyed upon reentry into Earth's orbit in the year 2000.
Cole Miller said in a press statement "We know that short GRBs form when orbiting neutron stars crash together, and we know they eventually collapse into a black hole, but the precise sequence of events is not well understood. At some point, the nascent black hole erupts with a jet of fast-moving particles that emits an intense flash of gamma rays, the highest-energy form of light, and we want to learn more about how that develops." Miller is a professor of astronomy at the University of Maryland and co-author of a paper on the research published in the journal Nature.
Based on the data from Compton and computer simulations, the astronomers were able to reveal the existence of two massive neutron stars together weighed in at nearly 2.1 times the Sun's mass before they collided with each other.