BJP's national executive meeting will take place in Delhi on January 16 and 17. Here's the significance and possible agenda of this all-important gathering. The BJP's national executive meeting will be held in Delhi on January 16 and 17.
There will be around 350 participants. Prime Minister Narendra Modi, and other top leaders, including Union home minister Amit Shah, defence minister Rajnath Singh, party president JP Nadda and BJP chief ministers will attend the all-important meeting. Other senior ministers, besides national and state office bearers, will also attend.
Without naming opposition leaders Rahul Gandhi of the Congress and Arvind Kejriwal of the AAP, Amit Shah said the people of Gujarat responded to those who tried to defame the state and PM Modi. Ahead of the meeting, Amit Shah said that the result of the recent Gujarat Assembly election has sent a message that Narendra Modi will be re-elected as the prime minister in 2024.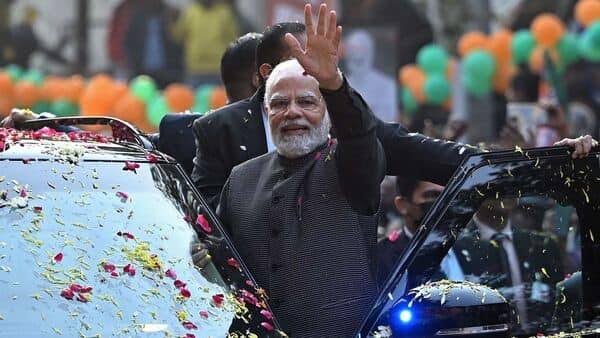 The party will go all out to promote G20 events following India getting the presidency of the elite grouping of 20 leading economies of the world. At the national executive, the BJP leadership may announce a year's extension for party president JP Nadda, whose tenure ends later this month. There could be three-four resolutions to cover political, economic and foreign policy issues, though there's no final word yet.
2023 is the year that will see nine states go to the polls. They are Tripura, Nagaland, Meghalaya, Karnataka, Mizoram, Chhattisgarh, Rajasthan, Madhya Pradesh, and Telangana. Elections could also be held in the Union Territory of Jammu & Kashmir.
The meeting will take stock of poll preparations and assess the implementation of the work outlined at the last national executive meeting held in Hyderabad in July 2022, when the message was to reach out to communities, especially marginalised Muslims. In 2021, the meeting took place in Delhi. The BJP national executive meeting will draw up a roadmap for these crucial political battles that will set the tone for 2024 when PM Narendra Modi seeks a third straight term.