President and The Prime Minister on New Year
Droupadi Murmu, The president has greeted the citizens of India on the occasion of welcoming the 2023 and wished that this new year may bring new goals, inspirations and achievements for all.
The president also addressed about the citizens dedicating themselves to the inclusive progress, integrity and unity of the country.
Furthermore, Prime Minister Narendra Modi has also extended his new year wishes and longed that 2023 be packed with Happiness, lots of success and hope.
The tweet goes, "Have a great 2023! May it be filled with hope, happiness and lots of success. May everybody be blessed with wonderful health."

Celebrations in major cities
Nonetheless, 2023 is being welcomed with great enthusiasm and love in almost all the parts of the nation. Electrifying celebrations and gorgeous fireworks have upheld the people's hopes for 2023.
Although Large number of people were gathered around India Gate to welcome the new year. Also, number of pretty parties were held at different clubs and pubs of the National capital, New Delhi.
Marine Drive of Mumbai flooded with people enjoying their new year celebrations. 'The city of dreams' hailed in its peaks of celebration by having a blasting music parties at pubs and clubs.
In addition, Goa became the synonym of enjoyment. The beaches were beautifully lit up as people danced and enjoyed with everything they've got along the shores. Hotels and restaurants organized dazzling DJ Parties all night and Every prominent restaurants, bars, casinos, and hotels had something special for it's customers to welcome new year with a blast.
In addition, Sudarshan Pattnaik, A renowned sand artist, gloriously made a sand sculpture of Lord Jagannatha alongside the Puri Beach. This unique of celebrating New year with an 8 ft high and 15 ft long sculpture made people go wow!
In the sculpture, he made use of 10 tons of sand to make Lord Jagannatha, Balabhadra and goddess Subhadra. He hailed the gods by writing " Jai Jagannath" along with beautiful decorations using flowers.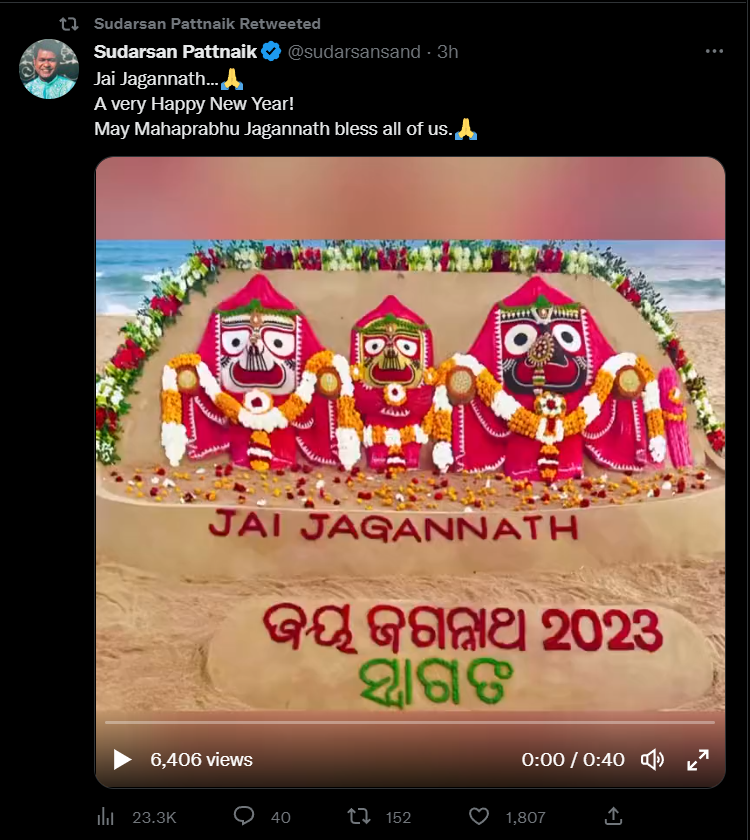 Traditional ways of celebration
However, the traditional ways never leave. Temples were seen crowded at various places in India. People offered poojas in large masses.
The famous "Ganga Aarthi" was performed at Assi Ghat in Varanasi in the earliest hours of the new year.
Ujjain, too, also was flooded with people to the morning worships to the god and seek blessings at Mahakaleshwar temple.
This temple performed "Bhasma Aarti" for Lord Shiva early on Sunday morning.
Moreover, The Shivalinga of Mahakaleshwar temple is believed to very sacred and special. It is only "Jyotirlinga" of the 12 for which "Bhasma" is used for the worship.
Nonetheless, Indians have welcomed the new year 2023 in their own unique, modern and traditional ways. With all this hype, let's begin this new year for all that we couldn't achieve it in the past.
Lastly, from Hindustan Pioneer, we whole heartedly wish you all to have a fantastic year!
"HAPPY NEW YEAR FOLKS!"