Tension prevailed at Kamareddy district on Friday,
State BJP president Bandi Sanjay Kumar was arrested on Friday night at the Kamareddy district collectorate amid heightened tensions while leading a protest in support of farmers agitating against the Telangana government's move to convert farmland into an industrial zone.
Sanjay, accompanied by a large number of BJP workers, sought to enter the collectorate to meet with the collector but was denied entry, and several BJP workers were injured in the scuffle when police caned the protesters. A police van was partially damaged when BJP supporters prevented police officials from transferring Sanjay.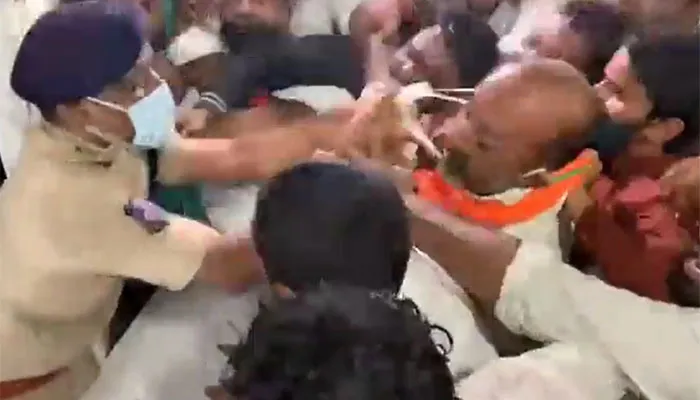 Before reaching Kamareddy, Sanjay met with the family of Payyavula Ramulu, 38, who died by suicide during the ongoing 20-day protest against the master plan. After meeting with the farmer's family, Sanjay slammed the government, stating that its anti-farmer policies were to blame for the farmer's suicide.
Speaking to Deccan Chronicle, Kamareddy DSP Muthineni Somanatham stated the situation was under control and that no untoward incidents had occurred during the bandh.
BJP workers tried to stop the police vehicle carrying Sanjay and raised slogans. This led to jostling and heated arguments between cops and the protestors. Irate workers
damaged a police vehicle and broke its windows. To bring the situation under control, police lathicharged the workers ..
Sanjay, along with leaders, party workers and farmers, attempted to storm the collectorate, demanding that collector Jitesh Patel meet the farmers to discuss the master plan. Some
even tried to climb the closed gates. A bandh was also observed in Kamareddy.