Kolkata's first multi-tier underpass is all set to open soon at New Town Biswa Bangla Gate. This would be Kolkata's first underground car tunnel in New Town. The four-lane underpass will be approximately 7 metres wide and 320 metres long.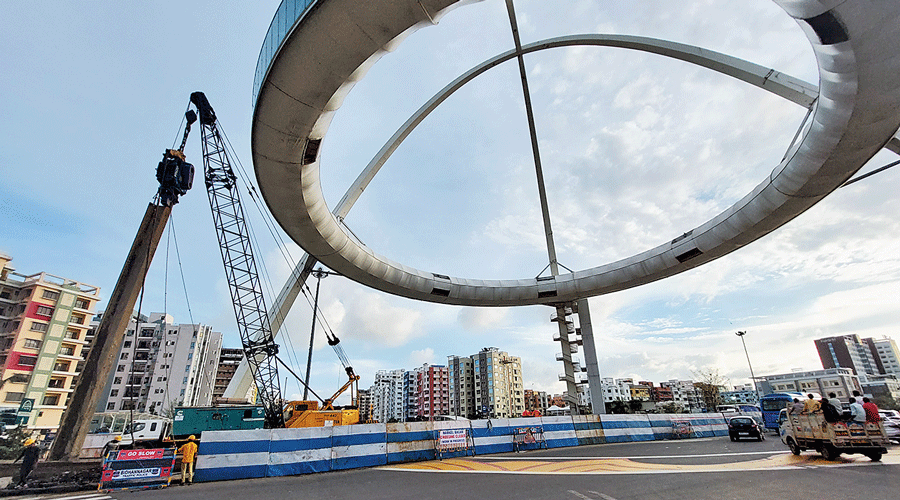 About Tiers
The four wheelers, light motor vehicles and two wheelers will move down from the first tier and from the second pedestrians will cross
Apart from these, buses and heavy vehicles like trucks will move from the main road as it is.
The upper tier of the underpass will be for cars and two-wheelers coming from the Salt Lake and Karunamayee side straight towards the Nazrul tirtha and Unitech side and vice-versa.
According to sources of KMDA, the second tier of the underpass has been built just 8m below the first level, which will work only for pedestrians.
The West Bengal Housing and Infrastructure Development Corporation is building a 320metre east-west tunnel for this, Through this tunnel, light motor vehicles will be able tocross the New Town Main Arterial Road at Biswa Bangla Gate – 4.2 metres below ground level.
The pedestrian subway will be constructed under that, around 8metres below the thoroughfare.
The four-lane underpass will be 7 metres wide. The estimated cost for the project is Rs 68 crore.
Large vehicles and buses will, however, will continue to use the road above.
It's a unique project to decongest traffic at the crossing and also to ensure safe movement of pedestrians.