Since the first film, Chad Stahelski's John Wick has quickly become a cult classic, and it began something of a modern "Renaissance" that continued with John Wick: Chapter 2 and John Wick: Chapter 3 – Parabellum. And come March 24, 2023, we will be treated to John Wick: Chapter 4
DIVING DEEP INTO THE WICK-IVERSE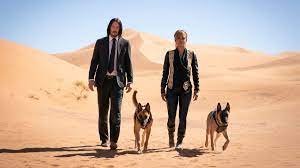 The official synopsis of John Wick: Chapter 4 reads: "John Wick uncovers a path to defeating the High Table. But before he can earn his freedom, Wick must face off against a new enemy with powerful alliances across the globe and forces that turn old friends into foes."
Of course, we can expect lots of action scenes and "gun-fu" fight choreography with Stahelski's signature written all over it. As seen in the trailer, set to a cool, echoey remix of Terry Jacks' "Seasons in the Sun," we are going to dive deeper into the mythology of the Wick-diverse and learn new things about John.
In an interview with Empire, the director gave us an idea of what to expect in the sequel, saying, "If you took The Good, The Bad, And The Ugly, crossed it with Zatoichi, and threw in a Greek myth, you'd probably get something close to this."
JOHN'S BACK AND HE'S BROUGHT SOME FRIENDS ALONG
Keanu Reeves is back and better than ever as the titular deadly assassin with effortless hair. The last time we saw him was in Parabellum when he was being double-crossed by Winston (Ian McShane) who shot him off a roof – but Mr. Wick survives
SPOILER ALERT: EVERYONE LIVES UNHAPPILY EVER AFTER
If you've been paying attention, you know that it's highly unlikely that Chapter 4 spells a happy ending for John, who never seems to catch a break. Stahelski pretty much confirmed this in an interview with IndieWire, saying, "John may survive all this s–t, but at the end of it, there's no happy ending."
THE WICK-IVERSE IS EXPANDING
Just when you thought that there weren't enough assassins in the Wick diverse, it was announced that Lionsgate is working on a John Wick spin-off movie called Ballerina starring Ana de Armas and directed by Len Wiseman (Live Free or Die Hard, the Underworld franchise).