Researchers investigated the effects of the selective serotonin reuptake inhibitor escitalopram (Lexapro) on the mental processes of healthy volunteers taking the drug over several weeks.
They found that escitalopram negatively impacted reinforcement learning, but did not influence other measures of cognition, including attention, memory, and emotional processing.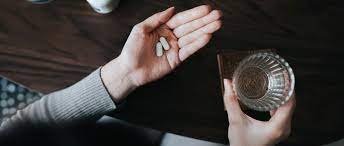 Serotonin is a molecule in the brain that carries messages between brain cells and regulates mood, which is why it is also known as the "feel-good chemical."
Since the 1960s, experts have widely believed that an imbalance of serotonin and other chemicals in the
brain is the reason behind depression, although there is an ongoing debateTrusted Source about this theory.
People with depression frequently receive prescriptions for selective serotonin reuptake inhibitors (SSRIs). These drugs block the breakdown and reabsorption of serotonin into brain cells, thus increasing
SSRIs and 'emotional blunting'
An unwanted side effect of SSRIs, especially — though not only — in people taking them for a long time,
is a diminished emotional response to both unpleasant and pleasurable events, referred to as "emotional bluntingTrusted Source."
Research has shown that about 40Trusted Source–60%Trusted Source of people taking SSRIs to manage depression experience some degree of emotional blunting.
The exact mechanism by which SSRIs may provoke emotional blunting is not known. To uncover this mechanism, researchers need to understand the effects of SSRIs on cognition, or mental processes.
Previous researchTrusted Source has examined the effects of short-term use of SSRIs on cognition, but
no studies have examined the cognitive effects of SSRIs taken over a longer period.
Symptoms of Emotional Blunting
Emotional blunting means that your feelings and emotions are so dulled that you neither feel up nor down. You simply feel "blah." People who experience emotional blunting will often report:
Being less able to laugh or cry even when appropriate
Feeling less empathy for others1
Loss of motivation and drive